I recently asked a question on my
Twitter page
in regards to how often people like to see blog posts. I know that I have little consistency in my posting-regularity and I'm not sure if that's a big deal or not. I've heard that search engines like daily posting, but I'm not writing for search engines. I'm writing for those of you who are interested in what's going on in and around my art and I want to keep you informed at the pace you want. Having said that, please feel free to post your comments about blog-regularity and how often you'd like to see me post.
Some of you may wonder if I'm not doing anything if I'm not blogging or updating
Twitter
or keeping up with the
Facebook page
, but the exact opposite is true. Not a day goes by that I don't work on a painting, customize a toy, or at least sketch a little bit. A day without art is like a day without food, and fasting hurts. The main reason I don't blog often is because so much IS going on.
Now to say something relevant in all of this, and get some news posted. I have a few exciting shows coming up in Washington DC, Virginia, and Montana. Currently I have work in
The Land Of Odd
gallery in Los Angeles, CA. It's a $100 and under group show so if you are in the area you may want to swing by and see if any work is left. They are at 4690 Eagle Rock Blvd - Los Angeles, CA 90041.
Upcoming shows in order are...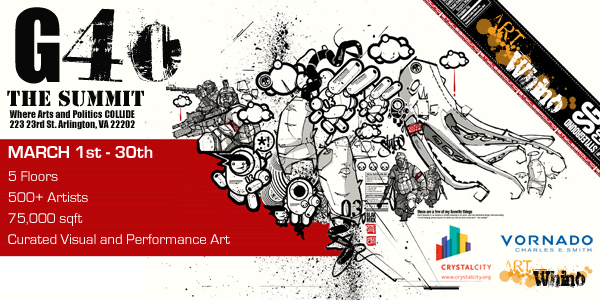 Art Whino's G40 show is a big one. Check out the list of artists such as Caia Koopman, Paul Chatem, Reuben Rude, Kelly Vivanco, Josh Taylor, Molly Crabapple, and tons more at
http://www.artwhino.com/g40/
. I will have three pieces in the show.
Next up is "Deckalicious" Skateboard Art Show at
Spaghetti Project
in Fredericksburg, VA on Saturday, March 20. I will have a hand painted skateboard deck in this group show. You can see the Facebook Event listing
HERE
. Spaghetti Project has also started carrying my limited edition shirts, so grab one of those while you are there, too!
My first late-spring-early-summer show (as of now) is on May 7th with the
Montana Skatepark Association
. This is also a custom skateboard deck exhibit, but these will be auctioned to help raise money for Montana Skateparks. I started skateboarding in the 80's and have always had a passion for the sport, so it's awesome to contribute to the expansion of skate locations and to help keep skateboarding alive and well. I have not decided yet if I can make it there in person, but I am considering the possibility. See more info at
http://www.montanaskatepark.org/ondeck/
I will post about more summer exhibits as they draw near. Also, more info and teasers will be posted in regards to the New York Comic Convention (NYCC) in October 2010. I am making NYCC Exclusive toys, prints, and more. This is all being made possible by
Tenacious Toys
, as they are hosting me as a guest artist at their booth.
Meanwhile, don't forget to join the
Facebook page
and follow on
Twitter
to get free stuff. I'm also going to be giving something away to one of you who are following this blog when we hit 75 people, so make sure you follow publicly so you have a chance of winning something nice.
God bless,
Bryan
www.bryandrinkscoffee.com
Facebook
Twitter